Metro via russia with love
I was engaged to fly a Metro Liner from Los Angeles to Sapporo in Japan. I had no experience on a Metro Liner so I asked Geoff Tozer, whom I had known for many years, to come and fly with me as he had been flying Metros for some years
In Sydney both Geoff and applied for a visa at the Russian Embassy so we could move the aircraft through Russia. The visas were granted. Whilst preparing for the ferry in Sydney we had planned to go from Anchorage via the Aleutian Islands to Petropavlovsk-Kamchatskiy.
When we arrived in Los Angeles to pick up the aircraft.  The owner advised us that he did not want the aircraft tanked at all to cross the Pacific.  We therefore decided to take the aircraft via Alaska, the route being Anchorage, Nome, Magadan in Russia then Sapporo in Northern Japan. 
We were having great difficulty arranging a permit to fly through Russia.  We were advised that we would be better to pull into Anchorage where there were people there able to arrange a ferry permit for us.
The owner also advised that he required his representative to be on board the aircraft as money had not changed hands yet.  Tony was a pilot and a mechanic so he was a good addition for trip.
We departed Hawthorne for Santa Barbara where we got satellite navigation and HF radio fitted.  Geoff and Tony had the Garmin up front and an aerial had been fitted with wire down to the back of the cabin where I occupied the seat as Ferry Master and HF operator from which position I supervised the ferry, making sure the two pilots up front did not go mad and make up new rules.
Tony had not had any two-pilot operational experience and he was upsetting Geoff, so I decided we would sort things out over a dinner and jalapeno and corona beer. This we did.
We left Santa Monica after two nights for Bellingham which is on the Canadian USA border.  The reason for landing at Bellingham was that the fuel was a great deal cheaper than at Boeing Field. Having refuelled we stayed the night.
Next day we flew on to Anchorage where we spent about 6 days because Geoff had insisted quite correctly that the de-icing equipment should operate normally.  I agreed with all of this. We also had to gain our permit to fly through Russia.  This proved slightly problematical. However, we finally sorted it all with $10,000 changing hands through an intermediate agency in the USA.
We approached the FAA for a permit to put ferry tanks in the aircraft. The FAA guy there would not grant permission to install ferry tanks. However, the Metro fuel cells had additional capacity, provided you could get the fuel into it. The only way was to pressurise the fuel going into the tanks. The owner in Los Angeles provided a fitting that could be attached to the starboard inner wing to add more fuel by pressure fuelling. This attachment was inserted into a fuelling cross feed valve underneath the starboard wing.
Having completed the maintenance, organised the pressure fuelling valve and feeding the crew at Kuennies we departed for Nome Alaska on 21st August 2002. Our clearance was delayed because we had missed our slot time in Sapporo. The Holiday Inn was booked out, so we ended up spending a couple of nights at the Nugget Inn. Geoff and I looked at the place and had lots of laughs but Tony for some reason was horrified. It was a dilapidated old pub from the 1800's.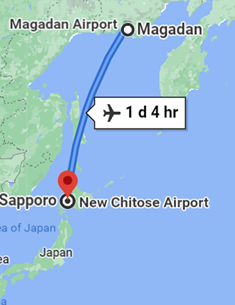 On the landing was an old harmonium. Geoff (who in his spare time is a musician) started to play the Adams Family Theme. After a bit I decided to go to bed. Meanwhile the girls at the front desk were in hysterics over Geoff's antics whilst they were trying to serve the incoming customers.
We were slightly worried about the quality of food as we did not wish to get any food poisoning.  One of the refuellers at the airport recommended a place which turned out to be OK.  We had Chinese.  After dinner I returned to the hotel whilst Geoff and Tony went on a pub crawl to places where there were lots of fat Eskimo women.  Geoff told one of the Eskimo ladies that Tony fancied one of them and he then bolted back to the hotel leaving Tony to fend for himself surrounded by women.
Geoff returned to the hotel and could not get into the room that Geoff and I were sharing because I had pushed all the furniture up to the door to prevent an invasion of Eskimo ladies who were knocking on the door lots of times.  Finally, I let Geoff in and returned the furniture to block the door.
After two nights in Nome, we finally received our clearance to proceed to Magadan in Russia. We departed Nome on 31st August.  Within half an hour after take-off we were in Russian airspace. We were required by the Russians to carry and use an HF radio, but amasingly after first contact on the HF they immediately told us to call on the VHF and gave us a frequency.  We had good VHF coverage all the way and wondered why the hell we had had to go to all the expense to install an HF and aerials.  Quite an expensive business.
We departed at 0900 Nome time.  We had to stop at Magadan for refuelling.  The weather was atrocious and the Glide slope on the ILS had dropped out.  We had to work out how to get down the ILS by converting feet per minute so we could do a Localiser Approach which we did successfully.  Calculators were very busy.  We became visual at the minima and found a runway covered in water.  Geoff put the ignitors on so that the engines would not flame out due to the water spray from the runway after touchdown.
The whole airport was very large and appeared dilapidated, with doors hanging off hangars, the taxiways under repair everywhere, glide slope not working – things looked rough.  There were holes in the tarmac areas that you had to negotiate around in order park, and there was no taxi guidance available. It was wet, grey and cold.
An ancient ground vehicle met us and guided us to the middle of the airport.  It was an old WW2 truck who had turned up to refuel us.  Our agent who was handling our refuelling and flight planning arrived with a gun and told us we had to stay with the aircraft. We obeyed.  He was accompanied by two ladies one from Customs and one from Immigration dressed in immaculate uniforms, looking really smart.  Geoff said they looked like BOAC hosties from the 50's.
During WW2 Magadan had been a uranium mining centre but were also referred to as the salt mines.  I kept threatening Geoff with banishment to the salt mines if anything went wrong.
I had warned Geoff and Tony about cameras in Russia and advised them to hide the cameras, which they totally ignored.  The younger of the two well-dressed ladies approached me and asked that her photograph be taken with the crew at the bottom of the aircraft steps. I approached the agent who almost exploded saying "but of course' throwing his arms in the air.  "Why do you ask".  I explained that I was worried about security within Russia and just wanted to do what was right, as it was only a couple of months ago that a Korean airliner had been shot down close to the route we were flying.  He replied "too much vodka".  After thinking for a minute or so I said "what do you mean too much vodka" He replied the "The Commandant he had had too much vodka that night and he told the pilot to shoot it down.  The pilot was objecting and said it was an airliner. We must not shoot it down.".  The commandant ignored his pilot and said "shoot it down" – I said "struth, I had not heard that story."  Much photographs were taken.
Our handling Fee of $300 US was more money than the agent received per month in salary from his other job whatever it was.
Right alongside of us was parked an old Ilyushin Il- 62 which appeared like a cross between a Hawker Sidley Trident and a DC 10 with 3 engines.  Some of the crew who looked very young came by in a rattling old bus and were curious about the operation of the aeroplane and what we were doing.  They asked to see inside the Metro. Geoff escorted them into the aircraft and the youngest turned up his nose and said "this is a piece of shit." And left.
We were on a deadline to meet our slot time at Sapporo so within the hour we were airborne again and on our way. 
We departed Magadan on 1st September.  Geoff had said to Tony do not put any co-ordinates into the GPS without us both checking them.  During the course of the flight Geoff had reason to come down the back of the aircraft. I said to Geoff "the Air Traffic Controllers are going berserk. You need to go and find out why."  Geoff discovered that they were off track due to wrong co-ordinates being entered into the GPS.  Geoff said to Tony" you fly and I will fix up the GPS co-ordinates."  They were just about to send up the fighters.  Geoff went mad and got stuck in to Tony telling him "I told you not to enter any coordinates into the GPS without us both doing it together and you completely ignored me."
Geoff called the controller and asked "can you give me a lead heading to get back on track and I will enter the correct coordinates for our next position."  The controller said "thank god someone who can speak English."  
Geoff found himself mimicking on the radio the Russian accent. The controller said "are you impersonating me".  He responded "Nyet, Nyet I do not wish to get shot down." The air Traffic Controller was having a good laugh.
Whilst flying through Russia we were not allowed to fly below 26000 feet due to restricted airspace. This meant that we had huge fuel economy and our fuel flows went down from the normal 700 lbs/hour to 400 lbs/ hour so combined with a good tailwind. We made good time.
We were getting ready for our descent into Sapporo.  The runway they gave us required a side step manoeuvre. Just before top of descent Tony said he had to go to the bathroom and much to my amusement he returned in full airline uniform.  I was laughing and Geoff said "what the hell are you getting all dressed up for?".  Tony said "the arrival of a new aircraft meant that media would meet us and I want my wife to see me all dressed up." 
The visibility at Sapporo was not that good and it was approaching dark. On approach Tony mistook the highway for the runway and Geoff had to take over to complete the trip. We were all very tired.  US pilots are mostly used to running down ILS's, not arriving with side step manoeuvres. We landed on 1st September at 0100 Nome time or around 1900 Sapporo time.
No media met us so Tony was downcast.
Finally, we were picked up to be taken through customs and immigration and then we were met by the owners of the aircraft who insisted upon taking us out to dinner.  By this time, I and Geoff were exhausted but we could not pass up their hospitality.
We had a lovely meal.  Tony was bragging about his experiences as a pilot and I piped in and said "you should be talking to Geoff because he can tell you about the Metro Liner aircraft as he has 7500 hours on type" The Japanese were very kind and looked after us. We spent two nights in Sapporo at the best hotel called the Grand Arthur.  They said "tomorrow night go out and have dinner at our expense."  When we ordered our dinner on the 2nd night the food arrived and before anyone stopped me, I ate a piece of Wasabi which I knew nothing about.  I was set on fire and was coughing and spluttering much to the amusement of Geoff and Tony.
Before our departure by airlines, we took out of the Metro all of our ferry equipment which included HF radio, the GPS's, tools, life rafts and jackets.  We then flew to Tokyo, changed airlines and continued on to Singapore.
Geoff and I were sitting in the Kris club (Singapore Airlines) when a lady came up and said "you have restricted equipment."  I said to Geoff "here we go we will end up in gaol."'  Geoff told the lady "The equipment has FAA approvals written on the side of the equipment they do not have to be declared."  Accordingly, the lady said "they are dangerous goods and they need to be declared."  Geoff said he was terribly sorry he did not know realise that." She inspected the inside of the equipment and found that what Geoff has told her was correct and that the FAA approval was written on the equipment. In the end she was happy and went away saying that the airline would carry the equipment.   I said "Jees dad that was a bit close".
We returned to Sydney having had an interesting and adventurous trip.